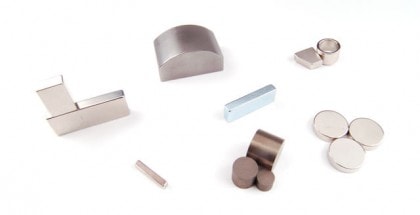 Since 1961, Dura Magnetics has offered in-house manufacturing capabilities to take your prints and specifications for an engineered to order magnetic assembly or custom magnet from the drawing board to the production floor. From quick turn prototypes to large volume production runs, we have the equipment, technical expertise, strategic relationships with key vendors, and trained personnel needed to manufacture custom magnets and magnetic assemblies to meet your specific application.
Unlike many of our peers who have eliminated their manufacturing capability and rely on distribution type sales to reduce overhead, we understand the customer's need to present a finished print and specification to a vendor with a capacity to deliver highly engineered magnetic solutions.
When researching new potential vendors to manufacture your custom magnet or magnetic assembly, it is important to remember that typical details, appropriate for common commercial materials, such as aluminum, steel alloy, brass, etc., are usually challenging to implement with  magnets and magnetic materials and that these specifications indicated on a drawing are often ignored by most magnet distributors.
Click here to see a list of common, mistakenly applied, drawing attributes. 

The operational performance of a magnet material can be very challenging to predict.  The magnet material used for your custom application may experience one or more of the following challenges:
Environmentally unstable (Highly reactive and prone to oxidation)
Gain or lose magnetic field relative to the operational temperature fluctuations
Can experience irreparable harm at extreme temperature exposures
Challenging to fabricate because conventional machine tools and machining methods are not feasible.
Challenging to design because the magnetic field density and force are not linear relative to distance.
Magnetic fields can create hazards for personal and some electronic equipment.
Magnet alloy is difficult to machine, so common methods of retainment such as tapped holes, shoulders, through holes, and tapers are expensive to employ.
If your potential vendor is not alerting you to these common manufacturing challenges during the quotation phase, you may be entering into a partnership with an order taker rather than finding a vendor capable of serving as your advocate, protecting your project from the common pitfalls experienced with magnetics manufacture.  Dura Magnetics will provide a quote as per your drawing, observing the indicated details and specifications, and/or open a dialog, questioning the potential issues.
Special Requirements
DFAR (Specialty Metals Clause 252.225.7009)
Export Controlled Items
Conflict Minerals – Section 1502 Dodd-Frank
REACH – RoHS – RoHS 2
Quality Management System (QMS)
Mil-Spec 45208A
Coordinate Measurement Machines and Video Inspection System
Magnetic testing equipment for measurements of Field Density and Field Strength
Hysteresisgraph for magnetic characteristic measurement
Equipment and Services
CNC Turning and Milling Machines
Sinker and Wire EDM
High Energy Magnetizers
Blanchard and Surface Grinding
ID and OD, and Centerless Grinding
Production and Precision Cut-Off Equipment
Sheet Metal Fabrication and Metal Joining Equipment
Coating and Plating
Painting
Powder Coating
Encapsulation
Clean Assembly Area
Contact the Custom Magnet and Magnetic Assembly Manufacturing Specialists
Thanks to a vast knowledge base accumulated acquired over 50 years, Dura Magnetics is particularly well suited to deliver on your custom magnetic solution.  When stock, off-the-shelf simply won't do, you need a team of engineering oriented magnetic specialists to meet the various challenges associated with the procurement of custom magnets and magnetic assemblies.  To get started, send us your drawing, or call Dura Magnetics at 1-800-492-7939 to discuss our in-house manufacturing capabilities today!