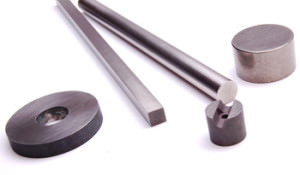 Alnico Magnets are largely comprised of Aluminum, Nickel, and Cobalt, Aluminum and other trace amounts of elements such as copper and titanium to tailor the alloy's magnetic and mechanical properties.  Alnico Magnets offers excellent temperature stability and a high Residual Induction (Br) but offer a low Coercive Force (Hc) which results in this alloy being easily demagnetized.   Alnico magnets also have a low Energy Product (BHmax) when compared to the Rare Earth magnet alloys, even though their Residual Inductions (Br) are comparable. In many applications Alnico is now being replaced with much smaller Rare Earth magnets. Dura Magnetics can supply stock shapes and sizes, custom, made-to-print Alnico Magnets, or we can assist in developing a solution specifically for your application.
Available Grades of Alnico Magnets:
Dura Magnetics offers both cast and sintererd Alnico Magnets in a variety of grades, including Alnico 2, Alnico 5, Alnico 5-7, and Alnico 8.  Our large selection of available Alnico magnetic alloys helps achieve the best balance of cost, magnetic performance, and operational temperature resistance for your specific application.
Explore available Alnico Magnet grades available from Dura Magnetics…
Corrosion Resistance:
Alnico  magnets exhibit a high degree of corrosion resistance and are typically employed in applications with no coatings or plating.
Learn more about Alnico Magnet Corrosion Resistance…

Temperature Effects:
Alnico magnets offer the best temperature characteristics of any standard production magnet material available. Alnico magnets can be used for continuous duty applications where temperature extremes up to 930°F (500°C) can be expected.
Learn more about Alnico Magnet operating temperatures above ambient temperatures…
Magnetization Options:
The lower coercive force of Alnico makes magnetizing a simple matter in most cases. In order to optimize the performance of Alnico magnets, it is advisable to magnetize the magnet after assembly with other circuit components.
Learn more about magnetization options for Alnico Magnets…
Compliance and Intellectual Property Considerations:
Alnico magnets manufactured by Dura Magnetics are compliant with Intellectual Property Rights, Environmental Restrictions, and Conflict Mineral usage.
DFARS Compliant
RoHS, RoHS II and REACH
Learn more about compliance and intellectual property considerations for Alnico Magnets…
Handling and Storage of Alnico Magnets:
Alnico Magnets are very strong and brittle, requiring appropriate handling and packing to ensure safety and prevent damage.
Learn more about safe handling and storage of Alnico Magnets…
Alnico Magnet Manufacturing Methods:
Alnico Magnets are typically manufactured by a powdered metallurgical process utilizing rigid steel or rubber molds.
Learn more about Alnico Magnet Manufacturing methods…